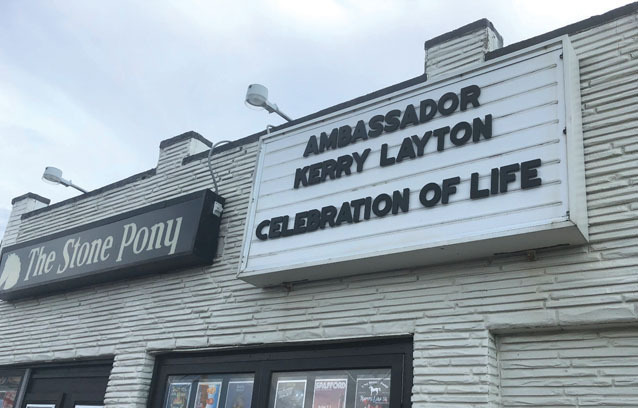 There Goes Her Miracle
IN SECTION: ON THE ROAD [ASBURY PARK, NEW JERSEY]
A Rock 'n' Roll Celebration of Love
When Kerry Layton, a longtime, passionate fan of the Asbury Park, New Jersey, music scene died June 7, his friends knew there was only one place to have his memorial service – the city's legendary Stone Pony music venue.
Layton, 70, was known as one of the Stone Pony's "ambassadors," a name given by the club's management to a group frequently gathered at the back bar. He sported a big handlebar mustache and was a fixture at the Jersey Shore, usually spotted on the beach, at concerts, riding his bicycle or sitting on the boardwalk.
"The Stone Pony meant everything to us. We loved the Stone Pony. It was our home; it was our living room for more than 40 years. We were comfortable at the back bar and that's usually where you could find us," said Pam DeLisa, Layton's soul mate, partner and love for 49 years.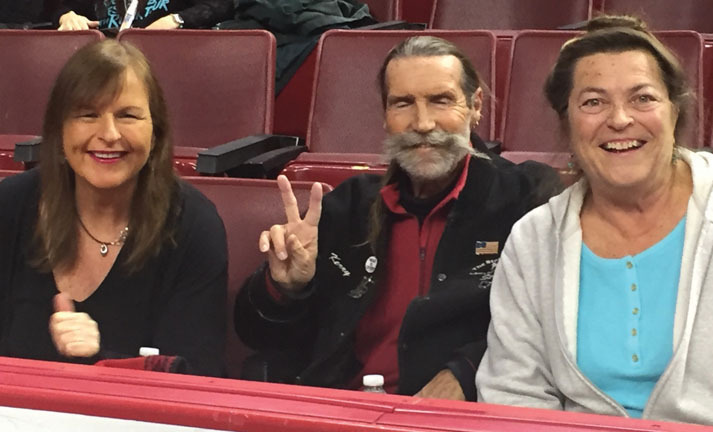 DeLisa met Layton on the beach in Deal, New Jersey, when he was a lifeguard in June 1970. They had been together ever since.
He was a lifeguard in Deal and Long Branch and a surfer. He was also a member of the Asbury ushers, who worked shows at Asbury Park's Paramount Theatre and Convention Hall.
"Kerry never wanted a funeral or a wake, that was common knowledge," DeLisa said. "Two friends, Lynne Kirchdoerffer and Jean Mikle, stepped up and said, 'We're doing something at the Stone Pony.'"
Kirchdoerffer and DeLisa's sister, Debbie, were with Pam the evening after Layton died.
"I'm not on the internet, but Debbie had posted on her Facebook page about Kerry's passing and I was hysterical as she was reading me the comments," DeLisa said. "Lynne was there with me as was my mother. It was not a good night, but I was like, 'Oh My God, there is so much love for this guy.'"
Kirchdoerffer and Mikle made sure all that love for Layton would have a time and place to be publicly expressed at the Stone Pony.
"The next day I went to the Stone Pony and talked to Caroline O'Toole, the general manager, and Kyle Brendle, the house promoter, about setting up a date," Kirchdoerffer said. "Once we got the date, we got things rolling.
"It was perfect to have a gathering where people could see Pam for the first time since they weren't having a wake. After someone dies, you may have that fear about seeing the person or they may also fear seeing people. Everyone was asking where Kerry's service would be and where could they see Pam?" Kirchdoerffer added. "I thought once Pam saw people, she could feel she could go on and have some closure."
Stone Pony Tribute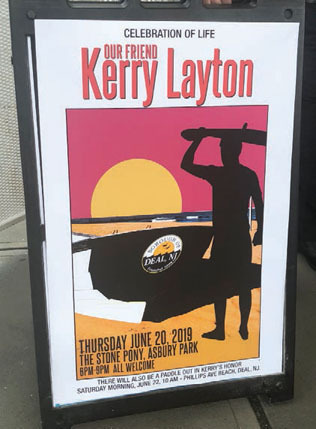 More than 400 friends and family attended Layton's public memorial service June 20. Greeting attendees at the entrance to the Stone Pony was a poster inspired by the 1966 movie "The Endless Summer" with the words "Celebration of Life. Our Friend Kerry Layton" on it. Buttons were given out with that artwork.
The sign outside the Stone Pony, which usually features the names of the upcoming bands playing there, read: "Ambassador Kerry Layton: Celebration of Life."
Inside, there were dozens of photographs of Layton displayed as well as videos that included photos of him. A lone chair sat on the empty stage with Layton's Stone Pony jacket draped on the back. A sandbox tribute featuring Layton's photo among seashells, little surfboards, his camera and a miniature bicycle was on the floor directly in front of the center stage.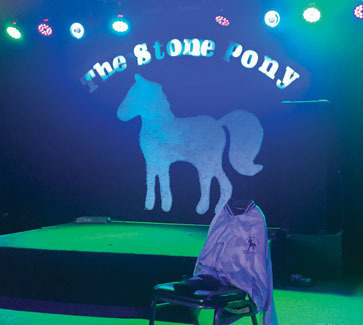 "That was Kerry's spirit, watching everything from that chair," Kirchdoerffer said. "Gina Rahey, another friend of Kerry's, put the sandbox together with all the things that represented him. The Asbury Ushers made desserts and we had pizzas delivered from Maruca's on the Asbury Park boardwalk. Plus many others brought food. The Deal fire department had one of its classic firetrucks parked outside the Stone Pony."
Longtime Stone Pony disc jockey Lee Mrowicki provided the music, playing some of Layton's favorite songs throughout the three-hour event. The evening's most moving period came when several of Layton's friends read tributes and remembrances from the stage. There were also video tributes shown.
Two Special Friends
Among the friends there was the rock star linked to the legendary status of the Stone Pony – Bruce Springsteen – and his wife Patti Scialfa. Layton and DeLisa grew up with Scialfa in Deal and have been longtime friends with her and Springsteen.
"I didn't know they were coming. A friend of mine came up to me and said, 'Oh my God, Bruce and Patti just pulled up.' I was very moved," DeLisa said. "Then when I saw Patti, I just started sobbing. Her and Bruce were so gracious, the two of them."
Springsteen was mentioned in several of the tributes, as Layton was a huge fan as well as a friend. He referred to Springsteen as "Mr. Big."
"Over the years, Kerry used to always say: 'Lynne, Mr. Big is here!' Or 'Tonight's a perfect night for Mr. Big to walk in to the Stone Pony,'" Kirchdoerffer said.
During the spoken tributes, Springsteen and Scialfa flanked DeLisa.
"When the speeches were going on, I had an arm around me, and it was Patti. Someone told me they heard Patti say to Bruce, 'We need to be up there with Pam.' I didn't go and get them. They came up," DeLisa said. "Bruce was rubbing my arm and Patti was very supportive – kind and nice – a friend, a longtime friend. They stayed with me through all the speeches and the videos.
"We kind of laughed at things. At one point, one of the speakers mentioned how Kerry would call Bruce 'Mr. Big' and they both laughed, and I said to Patti, 'Yeah, that's what they called him.' They laughed several times."
Springsteen recognized the impact Layton had on Asbury Park and the Jersey Shore.
"Kerry and Pam have been great friends to me and Patti and I have known them a long time," Springsteen told the Asbury Park Press at the memorial. "Kerry's passing is a great loss to Asbury Park and to Patti and I. We're going to miss him."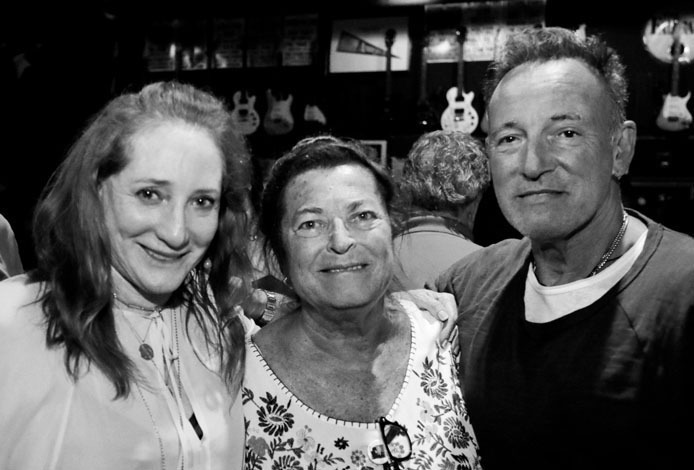 Springsteen and Scialfa made a special night even more special.
"It helped get Pam through the night. We all know how uplifting Bruce is," Kirchdoerffer said. "The spirit of the room was very high and very beautiful even before they walked in. But Bruce and Patti always add something."
Layton will be forever memorialized at the Stone Pony's back bar with a small plaque on the wall that reads: "Kerry Layton, Stone Pony Ambassador."
Paddle Out
To honor Layton as a surfer, a memorial paddle out took place on the Deal beach two days later. The ritual consists of several surfers paddling out with flowers in their teeth and joining hands to form a floating circle. Words of remembrance are spoken then the whole party erupts in smiles and cheers, splashes the water and throws the flowers into the water, as do those on the beach.
"A friend of Kerry's, Andy Feldman, designed the surfing poster and the pins. People just loved that. It represented the surfing side of Kerry," Kirchdoerffer said. "Andy called Deal and got approval for the paddle out. Kerry's brother, Jeff, took the reins on that. The Deal fire department brought tables and had tents pitched on the beach. There were surfboards in the sand and we had flowers, 75 stems and 35 leis ordered from Hawaii."
Over 100 people attended the beach memorial, including more than two dozen surfers who did the actual paddle out.
"When the surfers started making all the noise in the ocean, that's when us on the beach started roaring and when a loud wave came, that represented Kerry," Kirchdoerffer said. "Everyone threw their flowers into the ocean and that's when I said, 'Goodbye Kerry' and I broke down. Throwing the flower into the ocean was a big release for me. It was beautiful, just a beautiful day."
What would have Layton thought of it all?
"He would have loved it!" DeLisa said. "There was so much love for him from everyone on Facebook, at the Stone Pony and at the paddle out. I was cried out and I was good, I was real good, I had such good support, my friends, everyone."
A few days later, DeLisa listened to Springsteen's new CD "Western Stars" and was moved to tears again after hearing the song, "There Goes My Miracle."
"That song, when I heard that, I just lost it," she said. "That would have been our song. Kerry was my miracle."