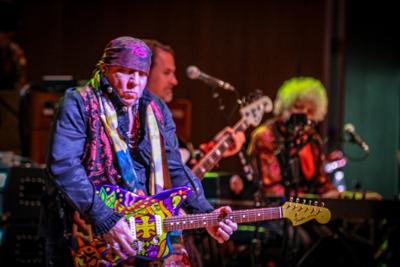 Steven Van Zandt performs with Little Steven and the Disciples of Soul at Holland Performing Arts Center on Nov. 28, 2018.
KEVIN COFFEY/THE WORLD-HERALD
Little Steven has a new album, a new act and a brand new fire for music.
Rock & Roll Hall of Famer Steven Van Zandt, longtime guitarist in Bruce Springsteen and the E Street Band and actor on "Lillyhammer" and "The Sopranos," has been on the road for a few years with his band, the Disciples of Soul, while Springsteen played a Broadway residency and worked on a new solo album.
Two years ago, Van Zandt released "Soulfire," an album full of new recordings of songs he wrote and co-wrote for other artists. And this year, he released "Summer of Sorcery," his first record of new material in 20 years.
It's an album aimed at recapturing the heat, excitement and anticipation of halcyon, youthful summers, and it has given Van Zandt a renewed enthusiasm for making new music.
On Friday, Van Zandt and his band will play the entire album at Memorial Park, making for a serendipitous performance of his new summer songs on a warm summer night.
Before he made the trip to Omaha, we caught up with Van Zandt to talk about the new album, the thrill of making new music and what might be up next for the E Street Band.
Q: How much of the new record are you playing? A: All of it. I don't fool around. When I do a new show, I do a new show. There might be three or four songs, really, kept from the old show out of like 23 songs.
Q: So you're focused on the new record? A: Definitely. It's the first time in my life I've ever done two records in a row with the same band. And it shows. It feels very very organic and natural. People are just going nuts over the show. It's been a lot of fun.
Q: You haven't done any E Street Band shows for a while. How much are you enjoying taking this big chunk of time to do your thing? A: It's been very very nice. It's been very rewarding to reconnect with my own music, which I really had no intention of doing. It just happened by accident.
It's a challenge. It's a very, very different job fronting the band than being a sideman. It's a lot more work, let me tell you. It's a huge transition. It's been fun, man, because of the band. I enjoy the show as much as anybody does. It's great.
Q: Having seen you guys, I can say it's a pretty dynamic performance. A: That's the idea. I had ADD long before it was fashionable. I get bored usually quicker than anybody. I like to keep things moving. The girls are great. They're half of the entertainment right there. The horn section is getting better and better and better.
We started off really good. If you keep a band together a couple of years, man, it just gets better.
Q: How much more of this will you do? I imagine at some point you'll be called back to the E Street Band. Are you trying to get as much out of this as you can? A: I wanted to dedicate a couple years to it and reconnect to it as much as I could. I feel really good about that. I booked the tour til Nov. 6 with the thought that Bruce may want to go back in the studio and do something with the E Street Band. If he does want to tour in 2020, he may want to go out with a new album. I'm stopping Nov. 6 either way, whether he decides to do it or not.
If by some chance if he does not want to go out, I'll go do a new TV show. But if he does, then we'll be ready. I wanted to make sure we had time to do a new E Street Band album and then get that out for summer of 2020. Stopping in early November will give us the time to do that. You know, the E Street Band records very, very quickly. It'll be effortless if he has it written and if that's what he wants to do. So we'll see. We'll be talking more about that in the next couple of months, but it's a possibility.
Q: I want to talk about making "Summer of Sorcery." In the past, you've done a lot of personal and political music. There's some of that on this record but not very much. Was that intentional? A: I basically did not want to do another autobiographical record or another political record. Not 100%. I wanted to fictionalize this one. I wanted to do 12 little movies where I could play a different character on each. There are some bits and pieces of reality sneaking in there, but mostly it's not. It's mostly storytelling and fiction all under the theme of summer and trying to recapture that feeling that you had when you were young. School is out, man! And you have that feeling of liberation and freedom. Y'know, that first summer of consciousness where you're falling in love with love and in love with life and the thrill of unlimited possibilities, man. I wanted to try and recapture that.
I really felt we are in the darkest period of civilization that I can remember. I think it's even darker than the Vietnam era. I really do. I've never seen so much nationalism and fascism and religious extremism and white supremacy. I thought, man, this is one dark time and it's gonna stay dark for a minute. I really want to make a record that gives us a little light and a little optimism and some hope. We gotta remind ourselves how good life can be and how good it was when we were a kid and looking forward to things.
I'm really quite happy with the way it turned out. I really did exactly what I was hoping to do.
Q: It feels like the culmination of all the things you've done. You mentioned acting like characters, which goes to your acting background. And obviously there's songwriting and music and leading the band, too. Did everything come together on this record? A: I agree with you. It does feel like that. At the same time, it feels like the first record of a new era. Everything up til now, I summed it up in the "Soulfire" record. It felt like that was my saying goodbye to the past in a way. This is like a hello to the future. This is the first time I've kept the same sound, the same band for two records in a row. I want to keep doing that. I want to keep evolving. I never really got a chance to evolve in a way that most normal bands do.
Q: So we might not have to wait 20 years for another record? A: I hope not, no. Bruce may occupy the next couple of years. We'll see. But no, we'll be back on a regular basis with the Disciples of Soul. That's for sure.