By Joe Friar Updated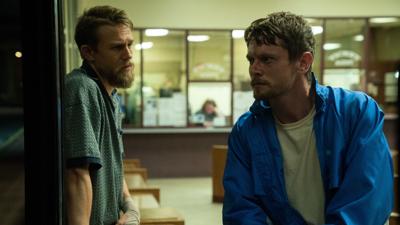 Charlie Hunnam and Jack O'Connell star in "Jungleland" (Image: Vertical Entertainment)
Review
JUNGLELAND (2020)
Charlie Hunnam, Jack O'Connell, Jessica Barden, Jonathan Majors, Fran Kranz, John Cullum, Meredith Holzman, Owen Burke, Nick Mullen, Michael Tow
Directed by Max Winkler
The performances by the film's three leads make "Jungleland" more than just an average entry into the crowded field of bare-knuckle boxing films. Charlie Hunnam and Jack O'Connell play brothers trying to break out of poverty and their blue-collar jobs by making it big on the underground boxing circuit. In debt to a local mobster, the pair are given a chance to wipe the slate clean with a shot at a $100,000 prize but first, they must take a road trip to deliver a young woman (Jessica Barden) to a sleazy crime boss.
"Jungleland" gets its name from Bruce Springsteen's 9-minute song with lyrics that could describe our protagonists Stan (Hunnam) and his younger brother Lion (O'Connell)…
"And in the quick of the night
They reach for their moment
And try to make an honest stand
But they wind up wounded
Not even dead
Tonight in Jungleland"
It's fitting that the song comes from the album "Born to Run" which sounds like another reference to the siblings who find themselves fleeing mobsters in the film co-written by director Max Winkler along with Theodore Bressman and David Branson Smith.
The story takes place in Fall River, Massachusetts, where Stan and Lion work in a sewing factory. It's not the ideal job for Lion, a boxer, who could easily injure his hands. But his older brother, trainer, and manager Stan doesn't always make the best choices for Lion. His shady dealings with gangsters got Lion banned from the sport of traditional boxing so now the two traverse the underground circuit looking for the next bare-knuckle bout.
Jonathan Majors ("Lovecraft Country") plays a local crime lord named Pepper whose goons threaten to break the brothers' legs unless Stan pays his debt. He gives them a chance to wipe the slate clean and an opportunity for Lion to compete in a $100,000 underground fight in San Francisco named Jungleland, but there's a catch. The brothers must deliver a teenage runaway named Sky (Jessica Barden) to a sleazy old crime boss named Yates (John Cullum) in Reno. He gives them a car, some cash, and a gun for the cross-country trip.
The film is filled with tropes we've seen before but like a playlist in shuffle mode, "Jungleland" feels fresh as it keeps the viewer engrossed thanks to the solid performances by Hunnam, O'Connell, and Barden — all British actors playing Americans.
The road trip, of course, is filled with obstacles as Sky comes between the two brothers. Lion begins to fall for her, and she tries to convince Lion that Stan is just using him. There are shades of Steinbeck's "Of Mice and Men" in the storyline that feels like an urbanized and much better version of its rural counterpart 2019's "Donnybrook."
Another aspect of the film that I enjoyed was Damián García's cinematography. The DOP behind "Gueros" and "Desierto" captures the gritty side of each urban landscape giving the illusion that the film was shot in the 70s.
Oh, and that Springsteen song — it never materializes — however, Winkler drops "Dream Baby Dream" by The Boss at just the right moment, "Come on, we gotta keep the fire burning. Come on and dream baby dream."
(3 stars)
In select theaters and available Digital and on-Demand Tuesday, November 10
Joe Friar is a member of the Critics Choice Association (Los Angeles) and the Houston Film Critics Society. A lifelong fan of cinema, he co-founded the Victoria Film Society, Frels Fright Fest, and is a Rotten Tomatoes approved critic.