How Bruce Springsteen made his most important album in his bedroom with just a Gibson J-200 and a TEAC 144
Back in 1981, Bruce Springsteen started recording two albums: one was a state-of-the-art gamechanger that influenced the production sounds of the 80s and made him an international superstar. The other was better than that...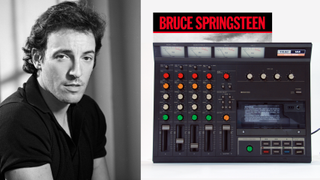 (Image credit: Getty (Bruce)/Rockheim (TEAC))
In 1981, Bruce Springsteen stood at a crossroads in his career and personal life. From the outside, he had the world at his feet. His last album The River had gone to no.1 on the Billboard charts and lead single Hungry Heart had gone to no.5. Coming off of the back of Born To Run's success and a run of hit cover versions (Patti Smith's Because The Night, Blinded By The Light by Manfred Mann's Earth Band), Springsteen was a bona fide star.
But something about it didn't sit right with Springsteen himself. Having struggled to break through, the victory seemed hollow. A romantic relationship ended and he found himself alone in a rented house wondering if it had all been worth it. "I just hit a wall that I didn't even know was there," he said recently. "It was my first real major depression."
In that rented house in Colts Neck, New Jersey, he started writing some new songs. The material that came was dark, inspired by a late night viewing of Terence Malick's Badlands, by Charles Laughton's macabre classic The Night Of The Hunter, by the stories of Flannery O'Connor and Jim Thompson and by what he saw around him in Reagan's America. They were stories of desperate people, living on the margins of American life.
His roadie bought him a new piece of hardware to capture those songs. The TEAC 144 4-track recorder was the first real portastudio. Home-recording hardware that recorded direct to cassette, it meant that for the first time musicians could record cheaply at home. Paired with some industry-standard Shure SMS7 microphones, Springsteen set himself up in the bedroom and began recording these new songs, mostly just voice, a Gibson J-200 acoustic and harmonica, but occasionally a little mandolin and glockenspiel, and "the Born to Run guitar, a mongrel, with parts from a Fender Telecaster and Fender Esquire, both of a 1950s vintage".
He didn't realise at the time, but what he captured on the TEAC 144, and carried around on cassette in his pocket for months, would later be released as his new album, Nebraska. The story of Nebraska is captured in a brilliant new book, Deliver Me From Nowhere by Warren Zanes (Crown), which details the relatively simple creation of Nebraska and its crazily complicated and tortuous route to physical release.
In theory, Springsteen was just creating demos on that TEAC 144 for his next album with the E-Street Band, and that's how it proceeded. He brought the cassette of songs he'd worked on into New York studio The Power Station and the band set out reshaping them. To begin with, it came easily. An angry little acoustic song called Born In The USA was transformed: Keyboard player Roy Bittan played an insistent riff on his Yamaha CS-80 while drummer Max Weinberg's snare drum boomed with gated reverb – a pioneering drum sound that would echo throughout the 80s.
"Everybody wanted that sound for a while," Springsteen's manager Jon Landau tells Zanes. "Even to this day you rarely hear drums with just the sonic power they had. It was so electrifying when we recorded it. It's an experience that was unforgettable. I forget a lot of the details of the past, but not that. When that happened, every person in the room, whoever was there, the assistant engineer or anyone in the band, everybody in the room felt like, 'This is as good as it gets.' It was a milestone. We'd done something in this studio that hadn't been done before."
With Born In The USA, Cover Me (an earlier song that Springsteen had written for Donna Summer but was persuaded to hold on to) and a couple of other songs that pre-dated his Colts Neck bedroom sessions (Glory Days and I'm On Fire) all quickly recorded, it was clear to them all – the band, their producers, the record company – that this new album was going to be huge.
But it didn't feel right to Springsteen. Maybe the stadium bombast of what would become the Born In The USA album was contrary to what he was feeling at the time. What he'd captured on his portastudio – that intimacy and darkness – was what interested him, and that was proving harder to reproduce in the Power Station. No matter how they cut those tracks, they didn't work. Finally, he pulled the cassette tape from his pocket: "What's the chance of mastering directly from this?" he asked
Producer Chuck Plotkin was not pleased with this challenge: "One of the things about Nebraska is it's cut on a crap piece of equipment. It wasn't a proper recording setup. It was also recorded by somebody who'd never recorded anything before. But they were making demos, so that wasn't an issue."
Making that tape useable is a tale in itself. Home recording hardware was different from studio. As Zanes comments: "In the first few years that followed the TEAC 144's introduction, it was common enough to hear people, particularly the aspirational types who had just picked up their new 144s, say, 'The Beatles made Sgt. Peppers on a four-track'. While true, The Beatles sure as hell weren't using a TEAC 144.
"The four-track machines at Abbey Road, which to this day remain coveted by artists and producers, were studio grade, using one-inch tape and operating at significantly higher tape speeds than the 144. The microphones used were of equal quality, no comparison with the Shure 57s Springsteen was using. And by Sgt. Pepper's The Beatles were syncing two machines together in order to have more tracks…
"What the 144 user's manual didn't say, because the makers of the machine didn't know this nor did anyone else at the time, was that the TEAC 144 would mark the beginning of a home-recording revolution that would, eventually, prove a significant threat to commercial studios."
As Springsteen recalled it in his autobiography, Born To Run, he mixed the 4-tracks "through a guitar Echoplex unit onto a beat box like the kind you'd take to the beach, total cost for the project: about a grand."
Released 30 September 1982, Nebraska went top 5 in the UK and the US. It was unlike anything before or since: a serious, authentic expression recorded directly from a major artist – without a producer, without a band, without even a drum beat. It showed that Springsteen had a depth that served as a useful counterpoint to the commercial juggernaut around the corner: Born In The USA.
"All popular artists get caught between making records and making music," Springsteen wrote in his autobiography, Born To Run. "If you're lucky, sometimes it's the same thing. When you learn to craft your music into recordings, there's always something gained and something lost… On certain records, that trade-off may destroy the essential nature of what you've done."
"If I had to pick out one album, that was going to represent me 50 years from now," he says today, "I'd pick Nebraska."
Deliver Me From Nowhere by Warren Zanesis out now