originally published: 05/22/2019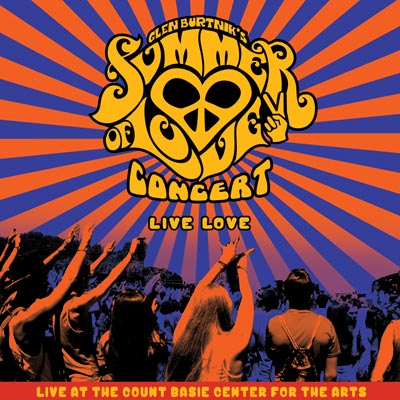 "Live Love" is a new Summer of Love live album co-produced by the Asbury Park-based national production's promoter Tony Pallagrosi and band leader Glen Burtnik ("Beatlemania," Cats on a Smooth Surface, Slaves of New Brunswick, Styx, The Weeklings).
Also featured this week are 90.5 the Night, Monmouth Museum, Spirit of the Upstage Club Jam Session, The Cryptkeeper Five, The Vansaders, Northside Lounge, Houston & the Dirty Rats, Fourth Wave, Chemtrail, Reality Suite, Jon Caspi & the First Gun, Elephant Talk, After the Burn, Art All Night and the Brighton Bar.
Glen Burtnik's Summer of Love is a tribute to the historic, explosively artistic, yet commercially successful outpouring of music between the June 1, 1967 release of The Beatles' "Sgt. Pepper's Lonely Hearts Club Band" LP and the Woodstock Music and Art Festival Aug. 15 to 18, 1969. In celebration of Woodstock's 50th anniversary, "Live Love," a live album co-produced at the Count Basie Center for the Arts by Burtnik and Summer of Love co-producer and promoter Tony Pallagrosi of UMT Presents has been released by JEM Records, the Central Jersey label of Burtnik's other band, The Weeklings.
"I love the music from that era and how authentically our stellar cast performs it most of all," Pallagrosi said. "A number of them weren't even alive in the '60s. I wanted to capture the brilliance, excitement and experience of the live performance! I watch it every night we perform, and I'm so moved by it, that I felt it would be an injustice to the cast, the show and the audience not to have an aural record of the concert. And I thought that I would be able to mix and produce it properly.
"I hope the Summer of Love album helps spread the reputation and impact of the show far and wide," he continued. "All the tracks are performed brilliantly, and I'm not exaggerating one bit, however, my secret, very personal fave is Glen Burntik's performance of The Lemon Pipers 'Green Tambourine.' I never knew how beautiful the lyrics were until Glen did such a magnificent job singing them."
While there won't be a specific concert celebrating the release, the 15-member cast that also includes Reagan Richards (William's Honor), Freedom Bremmer (Screamin' Headless Torsos, Moby, D'tripp), Remember Jones, Jaquita May (Little Steven's Disciples of Soul), Joe Bellia (Southside Johnny & The Asbury Jukes, Dave Mason, Jon Bon Jovi & The Kings of Suburbia, The Weeklings), Tommy LaBella (Jon Bon Jovi & The Kings of Suburbia, 10,000 Maniacs) and music director Vinny Daniele (Cats on a Smooth Surface) will tour all year long, Pallagrosi said. Dates include July 28, Schermerhorn Symphony Center, Nashville; Aug 8, Cain Park Amphitheatre, Cleveland Heights, Ohio; Aug 15, Mayo Performing Arts Center, Morristown; Aug. 16, The Freeman Stage, Selbyville, Del.; Aug 24, Hard Rock Hotel & Casino Atlantic City.
As founder of Concerts East and Starland Ballroom, Pallagrosi has produced more than 6,000 shows. He also has played many with Southside Johnny & the Asbury Jukes, Bruce Springsteen & the E Street Band, Boz Scaggs, and Delbert McClinton. He also is president of the Light of Day Foundation, a nonprofit that has raised $5.5 million during the past 20 years to battle and raise awareness about Parkinson's disease, progressive supranuclear palsy, and Lou Gehrig's disease, otherwise known as ALS. The next Light of Day fundraiser will be the Mini Golf Classic 3 on June 8 at Barnacle Bill's Amusements in Ortley Beach. Sponsorships are needed for the fun family outing. Light of Day then will benefit from the Asbury Park stop of the Happy Together Tour on June 21 at the Paramount Theatre with The Turtles, Chuck Negron of Three Dog Night, Gary Puckett & the Union Gap, The Cowsills and more. An annual golf outing is planned for Oct. 14 at Jumping Brook Country Club in Neptune. And then Light of Day Europe at the end of the year and Winterfest in mid-January throughout New Jersey, New York and Philadelphia.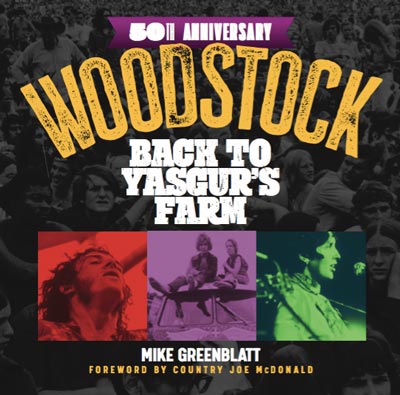 Speaking of Woodstock, my old Aquarian Weekly pal Mike Greenblatt has published a book, "50th Anniversary Woodstock: Back to Yasgur's Farm," which offers his front-row seat to the festival to capture the power of performances by Jimi Hendrix, Janis Joplin, Joe Cocker, Santana, The Who and the 28 other acts who graced the festival's stage over the historic three days. Greenblatt also interviews Graham Nash, Carlos Santana, Joe Cocker, Richie Havens, Country Joe McDonald, Edgar Winter, members of Jefferson Airplane, Creedence Clearwater Revival, Sly & The Family Stone, Canned Heat, Sha Na Na, co-host Chip Monck, fans and countless others. And he shares personal stories about what it was like to be in the crowd of a half million other young people who, he says, "embraced not only the music but each other." The book features a foreword by Country Joe McDonald, whose rousing solo acoustic version of "The Fish Cheer/I-Feel-Like-I'm-Fixin'-To-Die Rag," was among the many memorable performances at Woodstock.


Also on the Woodstock tip, 90.5 the Night and the Monmouth Museum will benefit from "Woodstock at 50: Summer of Love" on June 8 at the museum in Lincroft. As part of the museum's summer-long Woodstock exhibit, the panel discussion will feature Elliott Landy, the historic cultural event's official photographer; Sea Gudinski, a novelist who just released a work of historical fiction called "1969: A Brief and Beautiful Trip Back"; Tommy Fuller, a Jersey Shore musical gem who went to the festival as a 23-year-old, fresh out of the U.S. Army, and Brad Hunt, longtime music industry executive and artist manager who went to the festival as a 19-year-old.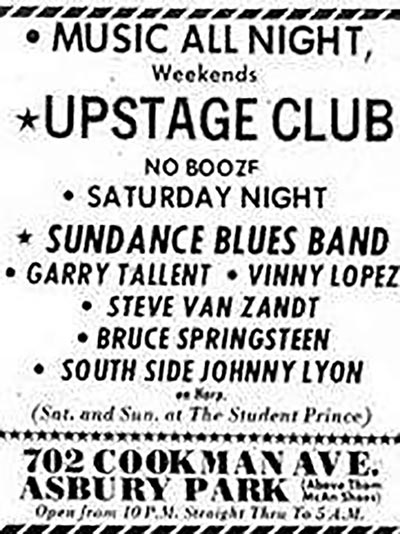 Also recalling that glorious Summer of '69 will be Asbury Park Music Foundation's inaugural Spirit of the Upstage Club Jam Session on May 26 at APMF in the Lakehouse Building. Modeled after the historic overnight jams at the fabled coffeehouse that launched the careers of Bruce Springsteen, Little Steven, Southside Johnny and members of the E Street Band and Asbury Jukes, the Jam will be hosted by The Burns' Chris Dubrow and his "OneMore with Brian Erickson" partner in crime Jessie McCormick. Doors open at 9:30 p.m. and will run overnight until participants run out of music or energy. They'll be playing in front of the actual Upstage DayGlo wall art. The art was removed from the deteriorating building on Cookman Avenue in 2017 by a crew of volunteers for the Asbury Park Music Foundation, as a donation from the Ross family. After the Jam Session, the wall art will be auctioned to the public throughout the rest of the year. APMF Chairman Jim Lenskold, who led the removal team as well as the preservation of the removed pieces, said "the auction of the wall art will be awarded based on a combination of the donation amount offered and the bidder's commitment to keep the art close to Asbury Park with periodic public access. We want this Asbury Park history to remain as part of our community." Information on the Upstage Wall Art and how to submit bids is available online.
Jam leaders have been assembled and are recruiting players via the Facebook group page and the event page. Each jam will consist of three to five songs or up to a half hour.
"We want the world to know that the Asbury Park music scene is thriving once again with hundreds of incredible musicians performing original music in dozens of venues along the Jersey Shore every night of the year," Lenskold said. "There is musical magic in these wall pieces from those early days of Springsteen, Little Steven, Southside Johnny, members of the E Street Band and many others. This night will bridge the past and present, setting some of that historical magic free from the walls while adding some new magic back in."
By the way, the history of the Upstage is detailed in the forthcoming movie "Asbury Park: Riot, Redemption and Rock n' Roll," advance tickets to which are available online. A portion of the proceeds from the movie will be donated to APMF.



Speaking of Springsteen, The Cryptkeeper Five will be dropping a punked-up cover of his 1984 classic "No Surrender" on May 24 just as they hit the road with Asbury faves The Vansaders. They'll play May 24 at Mill Hill Basement in Trenton with Tim & Dim of Honah Lee; May 30, Slash Run, Washington, D.C., with Plateau Below; O'Mainnin's Pub, Bristol, Tenn., with Moose Robert & the Jay Fitzgeralds, and June 1, Mojo's, Richmond, Va., with Decide by Friday, Dead Format and AM TV. While readying a follow-up to their 2017 masterpiece, "Stronghold," TCK5 also will play tribute to the late, great Jersey punk Jason Trioxin with his band, Mister Monster, in their last-ever performances on June 29 and June 30 at Debonair Music Hall in Teaneck. Also sharing those bills will be Blitzkid!, Argyle Goolsby & the Roving Midnight, Darrow Chemical Company, Robby Bloodshed, Captain Geech & the Shrimp Shack Shooters, Nate Imbolg and more.
Another TCK5 date is July 12 at a recently resurrected venue, Manville's The Northside Lounge, whose bookers include Houston Herman, front man of the Dirty Rats, who will share the bill with the Cryptkeepers, as well as Symptoms from Portland, Ore.; Philly's Teenage Bigfoot and South Jersey's Breaklite. Houston also will present a show and play it with the Dirty Rats on June 15 at Northside. That bill also will feature The Road Sodas from Nazareth, Pa., and Trenton faves Doc Rotten. In the meantime, the Dirty Rats continue to roll on their 100 Shows in 100 Days Tour with dates in St. Paul and St. Cloud, Minn.; Sheboygan and Milwaukee, Wisc.; Kalamazoo, Grand Rapids and Detroit, Mich.; Newmarket, Ohio; Rochester, N.Y., and the closing show on June 1 in Buffalo, N.Y.
The forthcoming women-owned Fourth Wave Rehearsal Studio will hold another launch party on May 23 at Asbury Park Brewery with two female-fronted acts -- Des & the Swagmatics, Shady Street Show Band – Lowlight front woman Renee Maskin and The Foes of Fern. Special surprise guests will be coming by to jam and prizes will be available. Expected to open by summer's end, Fourth Wave will fill a gap in available or affordable rehearsal space in Asbury Park.
Asbury instrumental rockers Chemtrail will release their next LP, "Collider," on July 5 with a release party at House of Independents also featuring performances by fellow Jersey rockers Gatherers and Nine Eighteen and Nathan Gray of the veteran Delaware punk band BoySetsFire. Having recently signed with Good Fight Entertainment, the folks behind fellow Asbury act Old Wounds, expect big things for Chemtrail with "Collide." In the meantime, enjoy the video for "Void Crawler" streaming above. The clip was directed by Chemtrail keyboardist Bobby Bates and guitarist Mike Burke with help from Wills Weller of Asbury-based Spinefarm/Universal recording act Toothgrinder.
North Jersey hard rockers Reality Suite are getting press in Europe with the release of their new single and video "Kiss the Ring" from their forthcoming album "Awaken." Boxing fans especially will enjoy the clip, which finds front woman Kimmii Heart going toe-to-toe with four other females at Savage Boxing & Fitness in Hackensack. The video was directed by Alex Kouvatsos of Blackwolf Imaging. The track and the LP were recorded and mixed by Mike Ferretti and mastered by Andy VanDette. The LP drops June 28 on Lions Pride Music, but you can pre-save it on Spotify and pre-order on iTunes.
Having recently released a single of a cover of The Who classic "The Kids are Alright," Jersey Shore punks Jon Caspi & the First Gun have released a video for the tune featuring Dez Cadena of Black Flag. The tune is from a forthcoming album that will be released by year's end. Look for Caspi & the First Gun to announce summer concert dates soon.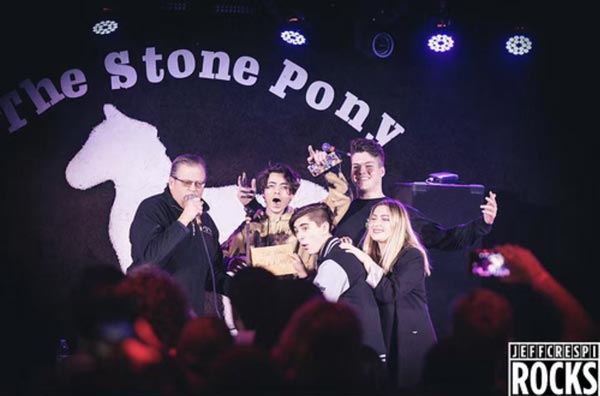 Elephant Talk PHOTO BY JEFF CRESPI
On June 23 at the School's Out Party, Elephant Talk will cash in one of their Rock to the Top prizes: a headlining spot at the Stone Pony. The all-ages also will feature Shallow Green, Cellophane Daydream, Public Access Band, The Press and four other bands. Beforehand, Elephant Talk's album, "Ivory," will drop on May 24. The LP follows two singles released in the fall.
Art All Night will be return June 15 and 16 to Trenton and is looking for artists and volunteers. To lend your time and talents, click here to submit art and here to volunteer. The overnight shift particularly needs staffing. The festival's 30-act musical lineup will be announced soon.
Many thanks to the Brighton Bar in Long Branch for hosting three-quarters of Makin Waves Fest last weekend. Lots of hot shows coming up there, including 50 bands over three days this holiday weekend. Performers will include From The Concrete, Sunverse, Christian Sparacio, Memoirs Of Addiction, Mitch Kolby of Blow Up Daisy, Rust N Stardust, Mojohand, Kat Phunk, Hunters Run, Christopher Jay, Shutter, Sick On Sunday, The Components, Canamara, Unlabeled, Hot Lips, Nothing Left To Lose, Switch Mob, Uncle Skunk, Andrew James Hughes, Fuey, Anker, Anthony Campana, Anaconda Plan, The Parkers, Baron Praxis, Skinny Dickies, Us & Them, Lily Vakili Band, The Sues, Stella Mrowicki, Nothing Vital, The Damn Long Hairs, Jag One, Hudson County Chaos, Other Lovers, Shallow Green, A Sleepless Endeavour, Screenage, Rugburn, Someday You'll Know Us, Sonoa, Iris Colton, Cellophane Daydream, The Black Ties, Ivies, Broken Angels and more. Born to Hula All Natural Provisions will be providing barbecue sauce, salsa, mustard and hot sauce for a free barbecue spread all weekend long.
Project R.E.A.L. (Real Empowerment on All Levels) is a safe-space in Asbury Park for LGBT young adults to relax, meet, and support each other within the community. The Brighton will host a benefit for them on June 8 featuring Nervous Triggers, Chrome Skulls, Sunrot, DopeRider, Dutchguts, Ides, and Mother Iron Horse from Salem, Mass. New Jersey Is Dead returns on June 30 with Diomede & Donovan. Kind of a Dead lot jammed into the Brighton, an all-ages New Jersey Is Dead show features a slew of vendors and good eats outside from the Angry Hippie food truck. There also will be a collection bin for clothing that will be brought to Long Branch-based Lutheran Church of the Reformation's Clothes Closet for underprivileged folks (children's clothes are in high demand). Toiletries also will be accepted.
And on July 26, After the Burn will play tunes from an album that will drop in September and include the new single, "Bullets on the Dancefloor," streaming above. They'll share that Brighton bill with Pat Vail, Extra S inc, and Sex Zombies, featuring members of The Black Clouds and Shut Up. Proceeds from that show will benefit Volunteer Auxiliary Animal Inc. of Jackson.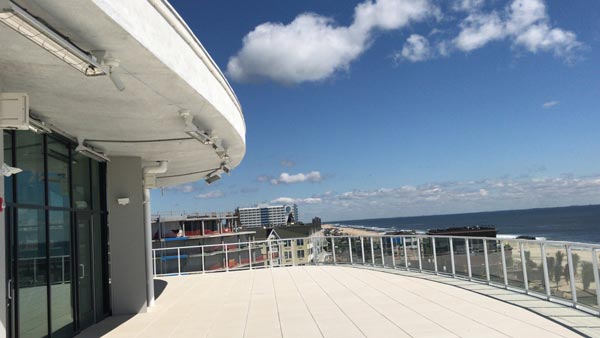 Wave Resort, a luxurious but fun hotel in Long Branch, opens June 1. PHOTO BY BOB MAKIN
I also would like to thank for their support Makin Waves Fest presenters The Aquarian Weekly, Happy Mondays, Light of Day Foundation, Reg Santana Presents, Tito's Handmade Vodkaand Wave Resort, which opens next weekend in Long Branch and should not be missed, especially the awesome swim-up bar.
https://www.newjerseystage.com...greenblatt-and-more/