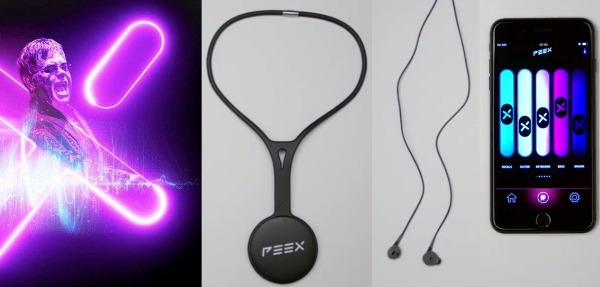 Have you ever attended a concert plagued by bad sound? Or maybe the question is have you ever experienced a live show that sounded as good as your favorite recordings — where sound wasn't muffled and favorite harmonies or guitar solos weren't buried in the mix?
All too often, live music is marred by awful acoustics, an overzealous soundman, or the loudmouth sitting next to you.
That's where an ambitious app-based technology from UK-based PEEX comes into play.
The PEEX Live platform aims to make the concert experience "more interactive and personalized" through a special set of wireless earbuds and a mobile app that communicates with the band's main soundboard so you can create your own mix on the fly.
Once you download the app and pair the earbuds with your phone, a PEEX console backstage detects your location in the venue and streams an enhanced five-channel audio signal to the app/earbuds. Through the app you can adjust volume and create your own five-channel "augmented reality" mix of the show.
Crazy, right?
So how does the system work?
In collaboration with the artist, PEEX takes an audio feed from the mixing board and separates it into five separate "stems," which are transmitted to PEEX-equipped concertgoers. The signal is sent in a proprietary, encrypted format to a "PEEX rX" lanyard you wear around your neck. The lanyard connects with the earbuds and synchronizes with sound from the mixing board so there is no perceptible delay between the two sources. Sound is then fed via Bluetooth to the app.
The in-app mixer divides the music into five adjustable channels, such as vocals, guitar, keyboard, bass, and drums. To keep you in the moment, the rX blends live sound with your personal mix to deliver an enhanced audio experience.
PEEX has been careful to preserve the social aspects of concert-going by making sure PEEX-connected fans are not isolated from the event. The earbuds, for example, allow some ambient sound to be heard. Alternatively, the system can be used with any headphones as long as they have a 3.5mm miniplug.
Graham Tull, chief technology officer and co-founder of PEEX, believes the technology will revolutionize the live music experience. "Artists, labels, and venues will all benefit from a closer dialogue with their audience via the PEEX app. We're looking forward to putting PEEX into action with our upcoming partnerships including A-list talent — it's sure to be a game-changer for fans, artists, and the live music experience."
After years of development and testing at more than 60 live shows, PEEX launched recently in the U.K. and is being showcased at select Elton John "Farewell Yellow Brick Road" tour dates, including this week's shows at New York City's Madison Square Garden and Brooklyn's Barclays Center.
Mike Dawson, CFO of Rocket Music Management, which counts Elton John among its clients, sees PEEX as a "disruptive technological breakthrough" with lots of potential. "Over the last three years, Rocket has worked closely with the team at PEEX as they've developed their technology to improve the fan experience at live gigs, and we're eager to see it go to market."
The PEEX Live is available for free download from the App Store (iOS) and Google Play (Android).
Click here for a video tutorial on how to use the PEEX app.
For more information on PEEX, including a video of Elton John talking about the technology, visit peex.live.

Read more at https://www.soundandvision.com...#xiRaJAM6TRDaF8tC.99