Graham Parker and the Goldtops are back with 'Last Chance to Learn the Twist' which Parker discusses after a classic 1980 flip side.
Parker's 25th studio album, Last Chance to Learn the Twist, his first on Big Stir Records, is the second in a row to have The Goldtops as Parker's band. Parker, on vocals, guitar, and harmonica, is joined by long-time guitarist Martin Belmont, Geraint Watkins on keyboards, Simon Edwards on bass, and new Goldtop Jim Russell on drums and percussion. Additionally, there are backing vocals by The Lady Bugs: Marietta Smith and Paige Stubley. The Easy Access Orchestra also joins in, with James Morton on tenor sax, Andrew Ross on baritone sax, and Ralph Lamb on trumpet on this eclectic thirteen-song collection. Goldmine spoke with Parker about the new album after highlighting some of his early work.
GOLDMINE: Welcome to Goldmine. Congratulations on the new album. I first heard your music as I was beginning college in the mid-1970s. On weekday afternoons on Cleveland's WMMS FM radio station, I would listen to DJ Kid Leo, who is now on Little Steven's Underground Garage station on Sirius XM. That is where I first heard Bruce Springsteen and the E. Street Band's "Born to Run," which made my Top 5 songs of 1975, and the following year, "Fool's Gold" by you and The Rumour, which made my Top 5 songs of 1976. I just love it.
GRAHAM PARKER: Thank you. I remember Kid Leo's show and yes, that's where the people in Cleveland got to hear me. "Fool's Gold" was a track with an anthemic feel to it and I am glad that this was one of the first songs of mine that you heard. That was quite representative of the sound of the music I was doing on my first albums, Howling Wind and Heat Treatment, both released that year.
GM: Right after I graduated college, I remember promoting your Squeezing Out Sparksalbum. The promotions team at Arista gave us push spinner wheel sparking toys.
GP: I still have a box of those in the attic. The labels have peeled off and they've jammed a bit. Once in a while, I will still see them in the audience.
GM: The following year, Up the Escalatorwas released, which included the catchy single "No Holding Back" with the energetic "Endless Night" on its flip side. Listening to its lyrical pattern now, it sounds like a template for what I hear on a couple of your new songs, just slower and softer. I certainly enjoy hearing Bruce Springsteen combine forces with you on the vocals on "Endless Night."
GP: He is a fan of my early stuff. My producer Jimmy Iovine said, "We should get Bruce for backing vocals." Bruce Springsteen was courteous and hard working during the recording. He just came in once and heard the stuff, and he was enthusiastic. When I first heard Born to Run it sounded like The Ronettes with a giant rock and roll band, recorded in the underground subways of New York City. I thought it was unbeatable, a stone cold classic.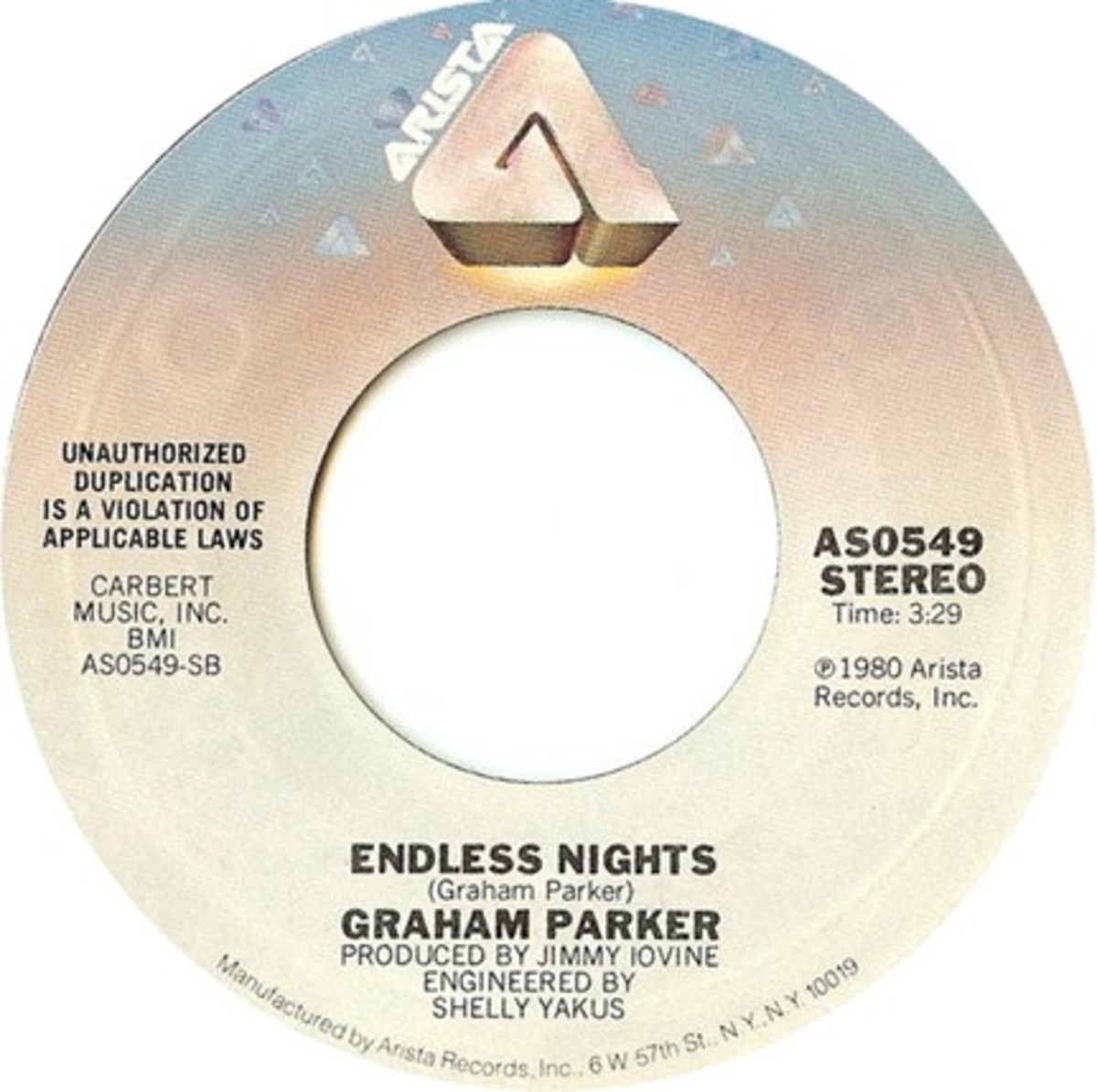 Graham Parker
Fabulous Flip Side: Endless Night (shown as "Endless Nights" in error on the label)
A side: No Holding Back
U.S. debut: August 1980
Arista AS0549
"Bruce Springsteen was courteous and hard working during the recording. He just came in once and heard the stuff, and he was enthusiastic. When I first heard Born to Run it sounded like The Ronettes with a giant rock and roll band, recorded in the underground subways of New York City. I thought it was unbeatable, a stone cold classic." – Graham Parker
GM: Now let's talk about your new album Last Chance to Learn the Twist, I think that title is true as a lot of our older performers retire or pass on. Those of us who are left are given a last chance to share music and dances from our era to subsequent generations.
GP: I thought it was a fun name to call the album, which came from the song "Last Stretch of the Road" which we all realize in our lives. It could go on for quite a while or it could end suddenly. We lose friends and people we love in music and art. There is not much you can do about it but maybe try to have a little bit of a laugh about it as medicine in life. I lost two friends of mine and when I hit seventy, I thought maybe I'm not so invincible anymore.
GM: Speaking about friends, you sing, "A friend got so cut up by someone who needed to shut up" on "It Mattered to Me," my favorite song on the album. It has a nice bounce to it and meaningful lyrics, "Everyone has something that matters but they didn't know until that something shattered."
GP: I don't like to see my friends being jerked around and observing that made the song a bit emotional. The feel of the song is a direct continuation from my prior album of five years ago, Cloud Symbols. With "Last Stretch of the Road" and "It Mattered to Me" it seemed that I was going in the direction of Cloud Symbols Part Two, but then the music got weirder on the other songs. "The Music of the Devil," for example is a bit tougher. Then the arrangements came into play with "Grand Scheme of Things" and "Sun Valley" especially, with notable exceptions on this album versus what I normally do. The album became eclectic in a hurry, and I thought that was good. If there was a genre called soul jazz, that is where I think "It Mattered to Me" would fit, and I think "Love Comes" from Cloud Symbols has a very similar feel to it. I am very pleased with the variety on the new album.
GM: You mentioned "Sun Valley," which is soothing with the "ooh" vocals that pop up, which I wait for to become soothed again. The female vocals from The Lady Bugs end the song so well.
GP: It is almost like classical movements on the song. The first verse is the only verse and the ending with The Lady Bugs and the horns help to make it anthemic.
GM: Coming out of a pandemic, "We Did Nothing" is so meaningful. I like your "iceberg of indifference" phrase and understand the regret of doing nothing when maybe something can be done.
GP: The verses take it from a very personal angle of "I did nothing" then coming out of the bridge we are suddenly in a global situation with lost love that you threw away and lost opportunities that everyone throws away with "we did nothing." I was very pleased to get all that scope into one song.
GM: Jim's drums come through so nicely on "The Music of the Devil," which was a warning about rock and roll that I heard growing up.
GP: I asked Jim to give it a jungle beat on his toms. I was listening to a lot of records of R&B and soul before The Beatles hit because my mum worked in a place called The Officer's Mess, which was in our little village because it was surrounded by the British army where I grew up. The first two schools I went to were on Army barracks. My dad was in the Army and served in the war, of course. My mum had gone through the Blitz and all that. At The Officer's Mess, she would serve tea when they had a party. The officers were always traveling from one country to another so they couldn't take things with them when they moved to Germany or the Far East. A few of the officers asked, "What does your son like?" She said, "He likes music." Which I did, listening to a transistor radio to Bing Crosby, Danny Kaye, Doris Day, and Duke Ellington. That was the type of music I was initially exposed to. So, I was given a stack of singles that had come off jukeboxes which some officer collected. I also got a James Brown album with "Mashed Potatoes U.S.A." on it and an Ike and Tina Turner album. This was around the time when The Beatles were emerging, and my mum and dad liked The Beatles instantly. They were a little bit leery of The Rolling Stones. My dad especially liked The Hollies. He said, "Oh, these blokes can play!" They were all right with pop music. Some of the other relatives said, "The Rolling Stones are disgusting. They never wash." Other than the length of The Beatles' hair, most people loved The Beatles. Then there were The Who and The Kinks and my parents were very encouraging. When The Beatles came out, all of us picked up instruments. My cousin handed down some crappy guitar to me and I started to mess around with it. I didn't bother to learn to play properly until I was in my late teens. James Taylor had come along, and I thought I should be able to try to do this. I had musical ideas. We had this whole mash up of music in my childhood period. With "The Music of the Devil," in the early days it was called race music. Some of my older friends were going to art school and were into folk and blues. Blues legend Robert Johnson supposedly sold his soul to the devil, so it was quite natural for me to come up with a song called "The Music of the Devil," which is still what we are making and continue to be influenced by black music from America.
GM: If you go back to the Bing Crosby, Danny Kaye, and Doris Day era, with that 3/4-time sound and a touch of the 1950s, "Grand Scheme of Things" moves along so nicely. I love the rhythmic match with the lyric line of the title.
GP: I am very fond of the way it starts. That is a classic time signature. Then in the middle it takes me back to being fourteen and getting ahold of Otis Redding's album Otis Blue with "Ole Man Trouble" and "I've Been Loving You Too Long." It is like I made two songs into one, and then at the end Marietta and Paige kick up their vocals bigtime.
GM: The Easy Access Orchestra shine on "Wicked Wit."
GP: Yes, they do. I came up with the melody and handed it to them for their horn arrangement. For many years when I write, I have the horn or keyboard arrangements in my head which I can hum or sing to the other musicians. I visited James, Andrew, and Ralph at their studio at the back of the Twinkenham Film Studios lot where they had a computer and the music tracks. They got it right. I said to them, "Anything else you want to do to fill in the gaps, feel free." I did the initial rough recordings at our bass player Simon's home studio. When we went to the actual recording studio I wanted to be prepared. My philosophy is that a recording studio is a great place to get out of. I just like to stand at attention, like a military drill, and get the record done, "Come on people. Shake a leg. Get on with it." That's what my people do, fortunately. Martin has been with me on guitar since the beginning, 1976's Howling Wind album. He is an old friend and often the guy to go to when I am in London recording to get other musicians. He has picked out people and has said, "These guys will be good for the music you are making." I dubbed the band The Goldtops, because the studio we recorded at is called Goldtop Recording Studio. They played on my prior album too. This time, the drummer Roy Dodds couldn't make it. He contracted COVID. I had the studio booked and he wasn't well enough. Thankfully he is through the illness and better now. It wasn't Long COVID, but he had a long bout of it on respirators. Quickly I had to hustle for a drummer and Martin suggested Jim Russell. What a drummer he is with a lot of oomph to his playing as well as the brushes for softer songs. With Geraint, on Cloud Symbols, I encouraged him to play between the notes on keyboards, which is very jazz oriented, a loose style, playing in between what other people are playing, and I encouraged the same thing from him on this album. He plays with Nick Lowe a bit, too. He is perfect for my music.
GM: I have enjoyed covering Big Stir Records releases this year: Tony Valentino of The Standells, Popsicko, The Flashcubes, and now you.
GP: I love Rex and Christina at Big Stir Records. I had reached out to a couple of other independent labels. One was too busy to provide proper coverage. Another wanted to pair the thirteen tracks down to ten, which I didn't want to do. Then I saw Big Stir pop up on Twitter. I looked at their acts and saw their eclectic variety. I wrote, "I am Graham Parker. Would you like to hear some new stuff from me?" They said yes and within the time it took for them to hear the album, they got back to me and said, "This record is superb! We would really love to have your album on our label." We struck a deal and I love their enthusiasm. They are all over it and their other acts as well. They put in a lot of work for the artists just like you do with your Goldmine articles. I thank you so much for your support. Onwards and upwards!