Source:
https://www.bbc.com/news/uk-northern-ireland-67286247
Bruce Springsteen: Is it a slow burn for Belfast and Dublin shows?
IMAGE SOURCE,

GETTY IMAGES
Bruce Springsteen tickets normally sell fast but have been harder to shift this time in Belfast and Dublin
It was a glory day for Bruce Springsteen fans after tickets for his four concerts across Ireland next year were released on Monday.
They went on sale at 08:00 GMT and were anticipated to sell out fast.
And, for the shows in Cork and Kilkenny, so it proved - all the tickets were gone within 90 minutes.
But the other two gigs, in Belfast and Croke Park in Dublin, have not yet sold out.
It's in contrast to the last time the Boss came to Northern Ireland.
Working man's hero?
Tickets for that tour were priced from £55 with shows in Belfast, Limerick and Cork selling out by 16:00.
This time around, the Born to Run star is performing at Boucher Playing Fields to a far bigger crowd (about 40,000 people) and at a much higher price.
"Singing about the working man but charging £126 for a ticket to your gig in Belfast next year. I doubt the working man could afford to go," a user wrote on X, formerly Twitter.
Some people have described the ticket fee as "a joke" and "out of control", while others are criticising the venue itself - an open air playing field in south Belfast with no seating.
The fields have previously hosted the T Vital and Emerge music festivals, as well as recent concerts from Ed Sheeran - tickets beginning at £45 - and The Killers at £59.50.
'The gold standard'
Despite that criticism, music commentator and BBC broadcaster Ralph McLean said he was amazed to hear tickets are still available for performances in Ireland's two largest cities.
He said he saw Springsteen play earlier this year and described him as "phenomenal" and "in top form".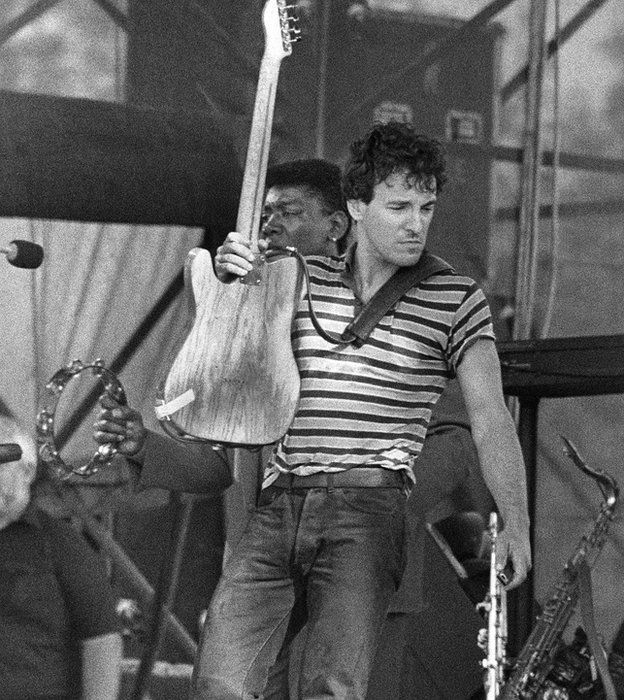 IMAGE SOURCE,ROB VERHORST/REDFERNS
Springsteen on stage at Slane Castle in June 1985
McLean said Springsteen's Northern Ireland audience will be lucky to see a "gold standard" performer who he described as still being on top of his game.
"Ten years is a very long time to be away," he said.
When asked why he thought ticket sales had not ignited, Mr McLean said: "I've no explanation. Maybe people are a bit cautious about spending the money."
However, he said, many "Springsteen-sized" artists are now charging in excess of £100 per ticket to account for exorbitant tour production costs.
"[Springsteen] isn't sticking the hand out any further than the rest of them," he added.
A spokesperson for Aiken Promotions, which is overseeing Springsteen's Irish dates, said on Monday: "At time of writing there are still a number of tickets available for the Belfast show in May 2024.
"Cork and Kilkenny shows have sold out since all tickets went on sale this morning."
Why are Irish gig prices so expensive?
For music fans across the island of Ireland, concert tickets have steadily risen over the last number of years.
Dr Michael Murphy, lecturer at the Institute of Art Design and Technology in Dún Laoghaire and music industry expert, said it's a problem with many factors, including inflation and demand.
"It's incredibly expensive for major artists to tour, the costs have escalated," he told BBC News NI.
"We've seen the cost of freight go up maybe triple, so getting gear from China to a factory in the [United] States where it's going to be assembled to make the sound, or the flat screen TVs - all of that's more expensive."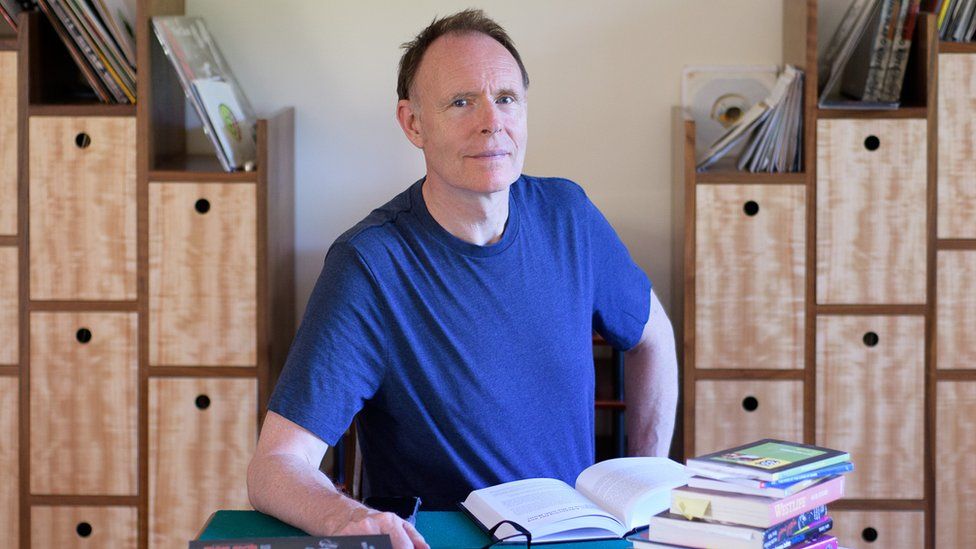 IMAGE SOURCE,JOSEPHINE SCOTT
Dr Michael Murphy says he has attended over 5,000 music gigs throughout his life
Rising fuel costs, as well as a mass exodus of gig workers during the Covid-19 pandemic to other careers and a greater demand for bigger artists have caused prices to shoot up globally.
"This isn't all about gouging the music fans," he added.
But in Ireland, there are a number of factors which mean fans are often paying more than their European counterparts.
Historically, Dr Murphy explained, bands did not play often in Ireland due to fears around the Troubles in Northern Ireland. So, when artists did come, there was a "rising tide" in demand.
"We're the world champions at paying a lot of money to go to gigs," he continued.
"I think it's part of Irish culture to go and see live music, and it's supply and demand. If one market is willing to pay more, the price has got to creep up."
Another problem when it comes to ticket costs, Dr Murphy highlighted, is the insurance "claim culture".
"Insurance companies have been a little bit hesitant to enter the Irish market because of personal liability claims... there is that culture so insurance for concerts is genuinely more expensive."
Peter Aiken, the head of Aiken Promotions which is putting on Bruce Springsteen's latest Irish shows, told the Irish Times earlier this year that this is an issue that particularly affects the Republic of Ireland, with insurance premiums there costing thousands more than in Northern Ireland.
Ireland's geography also cannot also be forgotten when it comes to factoring in the costs, with acts often passing on shipping costs and days of lost revenue, to fans.
Demand for a legendary artist, like Springsteen, will also play into the final price.
"The name, the reputation, the brand, the excitement, the number of hits, the legacy - all of that plays into demand," Dr Murphy said.
Springsteen in Ireland
IMAGE SOURCE,

INM
Bruce Springsteen and Patti Scialfa on stage in the RDS in Dublin in July 1988
The rock star's Irish shows are part of a 22-date trip across Europe, which kicks off in Cardiff on 5 May and concludes in London on 25 July.
Springsteen has played in Ireland about 30 times, most recently thrilling crowds in Dublin in May with three sold-out gigs in the RDS.
His wife, and fellow E-Street Band member, Patti Scialfa also has Irish links - her mother was born in Belfast.
Springsteen, who has won 20 Grammys, two Golden Globes and an Academy Award over his decades-long career, is known for his legendary live performances.
His shows in Ireland date back to 1985 when he rocked Slane Castle in County Meath as part of his Born In The USA tour.
That gig saw his biggest ever audience at the time with a crowd of more than 65,000 making their way to the legendary venue.
Musicians Eric Clapton, Pete Townshend and Elvis Costello were among the crowd there to support the New Jersey star.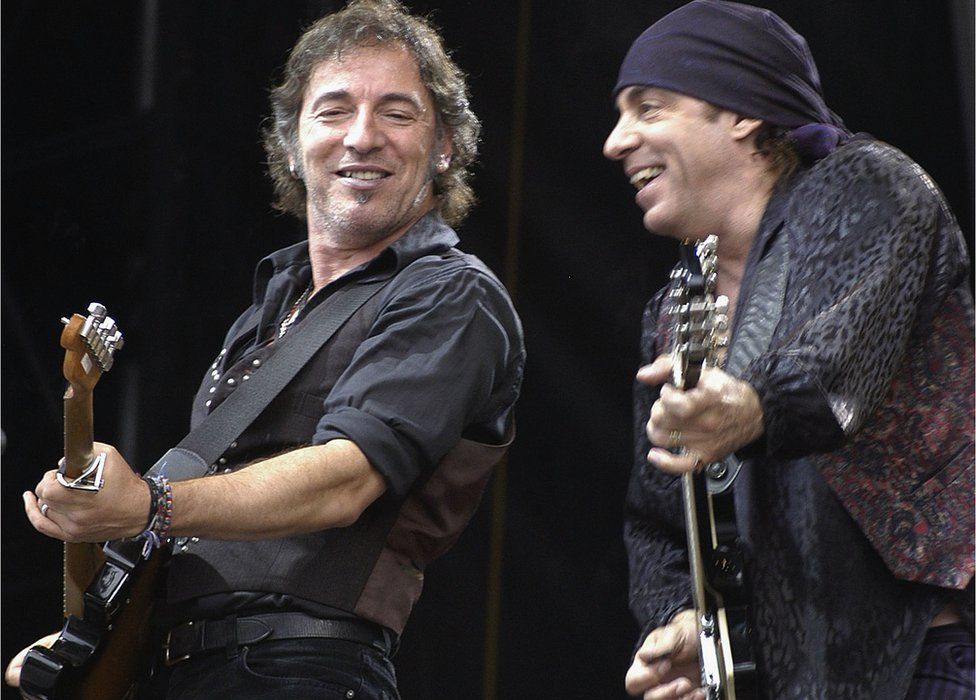 IMAGE SOURCE,GETTY IMAGES
The rockstar and Steve Van Zandt played the RDS Arena in Dublin in May 2003
Tickets for that gig were said to be selling for about just £15.
He told fans on his website: "Thanks to all my friends and fans for your good wishes, encouragement, and support. I'm on the mend and can't wait to see you all next year."