Get an arse as cool as Bruce Springsteen's with these Levi's bargains for Amazon Prime Day
By Louder
Debbie Harry. Nirvana. Ramones. Bruce bloody Springsteen. They all spent a fortune on their Levi's. Now you can get 'em for cheap...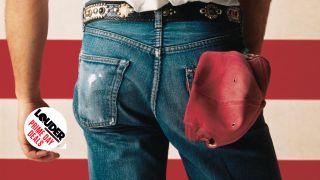 Amazon Prime Day 2020 isn't just about picking up a vinyl boxset-shaped bargain or getting yer sweaty paws on some better headphones. Uh-uh. It's also about getting your arse to look as good as Bruce Springsteen's did in 1984.
To this end, Levi's – the unofficial Kings of Denim – have discounted a load of their jeans, jackets, t-shirts and more to help you look as cool as Levi's wearers like Debbie Harry, James Brown, the Ramones and The Strokes, all of whom were fans.
The Levi's 501s are the company's most famous design, but the 505s have a decent claim as the rock'n'roll jean of choice, featured on the front of the Rolling Stones' Sticky Fingers album, as well as the jeans modelled by the Ramones on the cover of their debut album.
Which jean is right for you? Levi's Head of design Jonathan Cheung broke it down for GQ: "[The 505s are] a little bit of a dad jeans, in the nicest possible way, being a dad myself. In terms of where it sits in the Levi's menu, it's between a 511, what I call the every-guy contemporary jeans, and the 510, which is the first of our skinny fits. It fits on this lovely cusp between slim and skinny."
Full a full guide to Levi's style and numbers, check out this handy guide.
Check out the full range of Levi's Amazon Prime Day Deals or see the highlights below.