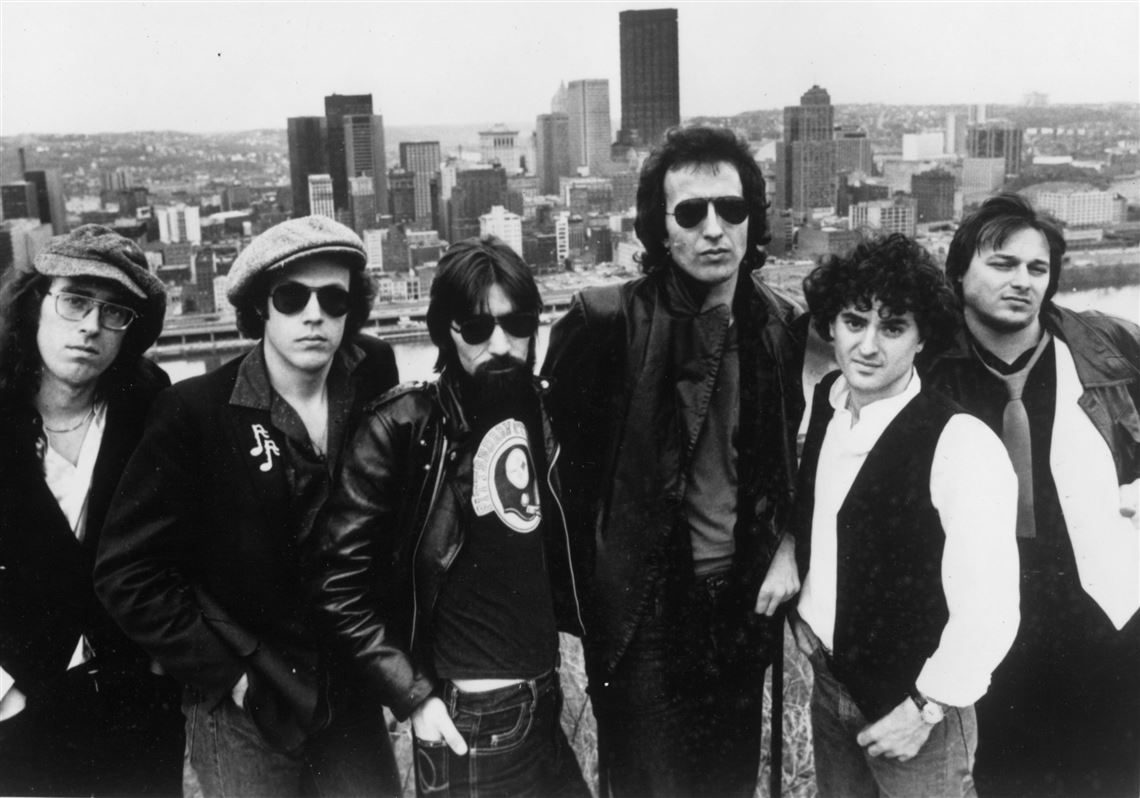 SCOTT MERVIS
Pittsburgh Post-Gazette
Joe Grushecky tried his best in the mid-'70s to lead the kind of suburban cover band that was popular in the clubs, but there was a problem.
"We weren't a very good Top 40 band. I would have fired us," says Grushecky, who celebrates the 40th anniversary of the Iron City Houserockers' debut album this weekend.
That first band, the Brick Alley Band, found a home at the club Gazebo on West Liberty Avenue doing Rolling Stones, John Lee Hooker covers and working originals into a second set. They practiced every weekday, crowding six guys and all their gear into the basement of a house the Irwin native rented on Southern Avenue on Mount Washington.
When the Gazebo shut down, they heard of a new venue in Oakland called The Decade that was looking for bands.
"It was like love at first sight," Grushecky says, "and the whole scene built around us."
The Houserockers became the house band at the rough-and-tumble Oakland bar, joining The Silencers, Norm Nardini and Billy Price. Grushecky laughs at the notion that they were somehow establishment compared to the emerging punk scene in Oakland.
"They saw us as being corporate. We didn't even know anyone who worked at a record store."
The band recorded a demo of "Heroes Are Hard to Find" and "Houserocker" and sent out the cassette with a hope and a prayer. It landed in the hands of Steve Popovich, the former CBS Records VIP and Greene County native who worked promotions for Bruce Springsteen, Bob Dylan, Cheap Trick and many others. He had split off in 1977 to create Cleveland International Records, having early success with Meat Loaf's "Bat Out of Hell."
"We got a call from Steve Popovich," Grushecky says. "He invited us up to his house in Cleveland. We go up to his house, knock on the door, and out comes Ronnie Spector in a bikini. A tour bus pulls up and out jumps Boz Scaggs and members of Southside Johnny. Irving Azoff was there. Steve throws on our demo tape, and we were cringing. But Boz Scaggs came over and said, 'This is great.'"
Rebranding them the Iron City Houserockers, Popovich signed them to an all-inclusive deal and co-produced the band's 1979 debut album, "Love's So Tough." Throughout 1978, they would drive up to Cleveland to record, often on the morning after a gig, with all six guys — Grushecky, Marc Reisman, Ned E. Rankin, Gil Snyder, Art Nardini and Gary Scalese — crammed into a Chevy Chevelle.
"We weren't polished studio musicians," Grushecky says, "but we got it done."
It was released on MCA Records on April 14, 1979. The Houserockers didn't see it until the day it came out and still have no idea who the female model in the tank top is on the cover.
"I would have preferred to see my own face on it," Grushecky says, "but it's been a fun question of who she is. People would ask me, 'Is that your wife, is that your girlfriend?'"
"Love's So Tough" hit the streets as a gritty, blue-collar record akin to the E Street Band and the J Geils Band, with some of the raw, pub-rock energy of Graham Parker and the Rumor, especially in Grushecky's growling delivery of opening track "I Can't Take It."
"If you're going to be compared, you might as well be compared to the great ones," he says of those comparisons.
WDVE, to its credit, jumped on the new Houserockers album, putting "Hideaway," the album's one cover, by Fred Goodman, in regular rotation.
"It's wasn't our favorite song on the record, but we were just glad to be on the radio," Grushecky says. "We needed a song to get on the radio, and they didn't think we had anything. We got these songs from publishers. I turned down 'Hit Me With Your Best Shot,' so that's how smart I am."
The Houserockers became Pittsburgh's signature band in the era of the City of Champions, and "Love's So Tough" got rave reviews, one of the best coming from Rolling Stone legend Greil Marcus.
"They've made one of the least polished first al­bums I've heard in the last year, and one of the best," he wrote. "With luck, they might fill part of the gap left by Lynyrd Skynyrd; they might even help bury the rotting corpse that outfits like Journey, the Doobie Brothers and the Knack have made of mainstream rock & roll."
The Houserockers shared stages with J Geils, Patti Smith, Meat Loaf, Iggy Pop and Steve Cropper, and everyone from Neil Young to the members of Pink Floyd came to see them.
One pairing that didn't work out was a tour booked with Ozzy Osbourne where fans threw everything but the seats at them on opening night in Rochester, N.Y.
"I thought we were going to be killed," Grushecky recalls
Marcus ended his review saying, "With­out luck, the Houserockers may not even get a chance to cut a second LP — they offer no frills. I hope they're around for a long, long time."
The Houserockers did in fact go on to make two more acclaimed records, "Have a Good Time but Get out Alive!" (1980) and "Blood on the Bricks" (1981), for MCA before Reisman and Rankin left and they became simply The Houserockers for 1983's unmemorable "Cracking Under Pressure." Since then, Grushecky, who just turned 71, has made a dozen more records, either solo or with the Houserockers, including the Springsteen-produced "American Babylon."
His current version of the Houserockers — which includes his son Johnny, longtime drummer Joffo Simmons, guitarist Danny Gochnour and bassist Jeff Garrison — will be joined this weekend by original Houserocker Reisman, a show-stealer who would often jump off the stage onto one of the Decade's tables.
Like with the J Geils Band, a certain magic always comes back when Reisman and Grushecky get back on stage together.
Scott Mervis: smervis@post-gazette.com.
IRON CITY HOUSEROCKERS
With: Biirdwatcher.
Where: Crafthouse Stage & Grille, Whitehall.
When: 9 p.m. Saturday.
Tickets: $20 advance; $25 door; crafthousepgh.com.