Gurinder Chadha's film about the youth of a music-mad British Muslim will benefit from hits by Bruce Springsteen.
In a cinematic first for Bruce Springsteen, the rock star's all-American songbook is to provide the soundtrack to a new British musical about growing up in Luton during the 1980s.
A unique arrangement between the New Jersey-raised musician, known to fans as "the Boss", and the director Gurinder Chadha, creator of the 2002 box-office hit Bend It Like Beckham, will see a selection of the singer's early tracks playing a key part in her new comedy, Blinded by the Light.
Billed as "a hybrid musical", the film will use Springsteen's music to help tell the story of a young Muslim boy coping with adolescence and racism, as well as parental disapproval.
The film is based on Sarfraz Manzoor's 2007 memoir, Greetings from Bury Park, and it is due to finish filming at Ealing Studios in west London later this month. But an early trailer will be screened later this week for an international audience at the Cannes film festival.
Manzoor's book chronicled the inspirational impact of Springsteen's lyrics on him as a youth growing up in Luton. Chadha, also a long-time admirer of the music, was keen to bring the story to the big screen as soon as she read it.
"I told Sarfraz then I knew how to make it into a film," she told the Observer, adding she still found it hard to believe Springsteen had backed the project. "Sarfraz and I were at the London premiere of Bruce's film The Promise in 2010 when we actually bumped into him on the red carpet. He said he had read his book and that he thought it was amazing and, while Sarfraz was still fainting with joy, I quickly told him about the film we wanted to make.
"Bruce said: 'Sounds good,' and told us to talk to his manager, Jon Landau. Then we had to start developing a script we felt was good enough. Without the blessing of Bruce, Jon, and his other manager, Barbara Carr, there'd be no music and so no film."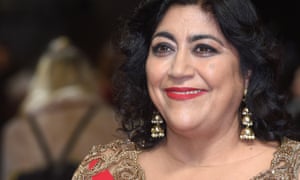 Chadha, whose last film The Viceroy's House tackled the tragic causes and epic scale of the partition of India, said she hopes Blinded by the Light will, by contrast, mix a little of the quirky British humour of some of her earlier films, such as Bhaji on the Beach (1993) and Angus, Thongs and Perfect Snogging (2008) with the lively energy of 1980s high-school movies written by John Hughes such as Pretty in Pink and The Breakfast Club.